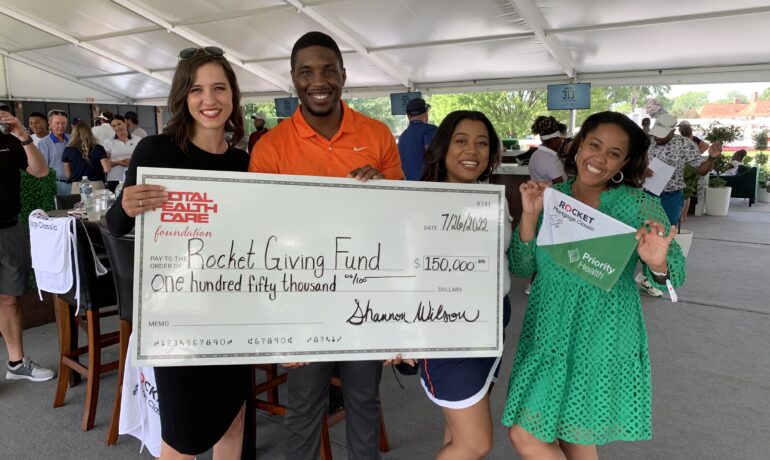 Total Health Care Foundation awards $150,000 to benefit Connect 313
On a crisp, clear afternoon at the Detroit Golf Club, the Total Health Care Foundation awarded the Rocket Giving Fund a $150,000 grant to benefit Connect 313, a collaborative organization that aims to close Detroit's digital divide. The check presentation took place at the AREA 313 Celebrity Scramble on Tuesday, July 26, part of the activities leading up to the Rocket Mortgage Classic.
Prior to the COVID-19 pandemic, nearly 40% of Detroit homes were without broadband internet access. In a 2019 survey by the National Digital Inclusion Alliance, Detroit ranked as the least connected large city (more than 100,000 households) in the country. Priority Health is committed to taking steps to improve health equity across Michigan by addressing factors including social determinants of health such as lack of technology, digital access, digital literacy and educational training.
"The inability to access the internet has been identified as a 'super determinant' of health and can have a significant, long-lasting impact on people's well-being. The Rocket Community Fund and Connect 313 are helping shine a light on this critical issue that often impacts our most vulnerable citizens," said Shannon Wilson, executive director of the Total Health Care Foundation and vice president of Population Health & Health Equity at Priority Health. "Along with other dedicated community partners, Priority Health and the Total Health Care Foundation are committed to ensuring that all people have access to the resources they need to live their healthiest and most prosperous lives."
The Rocket Giving Fund, the nonprofit that administers the Rocket Mortgage Classic, works closely alongside Connect 313 partners Microsoft, United Way for Southeastern Michigan, Rocket Mortgage, and City of Detroit, with the goal of ensuring every Detroiter has access to the internet, technology and digital literacy programming within a 10-minute walk of their home.
"On behalf of our dedicated Connect 313 partners, we are grateful for Priority Health's commitment to Detroit residents through their generous donation in support of critical digital inclusion efforts," said Laura Grannemann, Rocket Giving Fund board member. "This commitment will help build neighborhood tech hubs, provide residents with technological devices and support digital literacy programming that ensures Detroit residents are equipped with the tools they need to thrive in our digital-first world."
Formed as part of the merger agreement between Priority Health and Total Health Care, the Total Health Care Foundation has committed to providing millions of dollars in grants over the next few years. To date, more than $8 million in grants have been distributed to organizations throughout Detroit and Southeast Michigan.