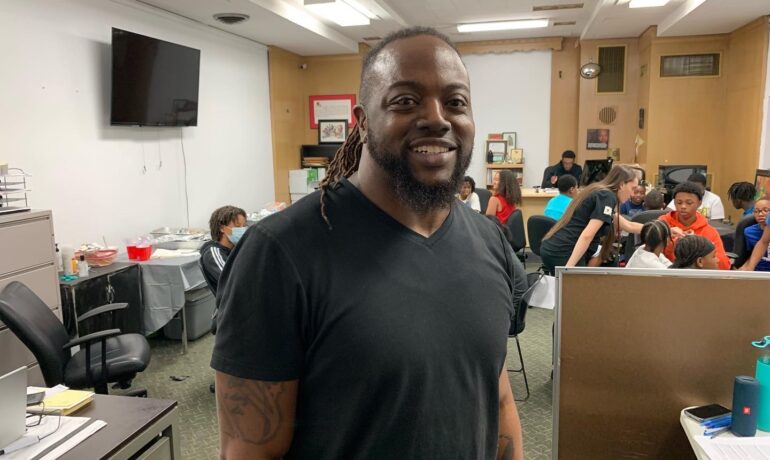 Steven Henry Takes on New Role as Manager of Connect 313's Community Ambassador Program
Throughout his career as a community advocate and grassroots organizer, Steven Henry has worked to build trust and engagement with Detroit residents. Affable and articulate, Henry will now bring his innate communication skills and programming acumen to his new role as manager of Connect 313's community ambassador program. 
Deeply rooted in the city, Henry, who holds a master's degree in social justice from Marygrove College in Detroit, is rolling-up his sleeves and getting to work doing what he's passionate about and dedicated to: building digital equity across the neighborhoods of Detroit.
"I live and breathe Detroit," Henry said. "And COVID 19 exposed all the negative consequences to residents who are not fully connected in the 21st century. In my experience at the Osborn Neighborhood Alliance (ONA), I found homes without high-speed internet, and people without the appropriate devices not able to access healthcare, education, and work during lockdowns. These folks are disadvantaged and that has to change."
Communities often have more agency than they think, Henry says, and there are options and resources to be leveraged. He believes that's where Connect 313's community ambassadors can be most effective. 
In his new role, he plans to build visibility for each ambassador within his or her designated district through participation in community events, neighborhood fairs and within existing outreach services. The challenge and the reward, he says, is educating ambassadors new to grassroots organizing.
"My goal as manager is to grow the team's skills and knowledge and elevate the ambassador function to a higher level as we more fully flesh-out this program," he explains. "We'll take what we've learned and move to greater things while expanding our reach to deliver more resources."
Along the way, Henry will continue building on the trust Connect 313 and its partners have earned among Detroiters while working on greater buy-in from the public he serves. 
"That makes the difference," Henry said. "And that's what Connect 313 is all about – how the community ambassadors will effectively carry out the organization's mission of a fully digitally inclusive city."
He fondly recalls the first computer classes offered at the Osborn Neighborhood Alliance, which also serves as a Connect 313 Tech Hub and is where Henry served as an early community ambassador. 
"Initially, there were just one or two people participating. But as we spread the word, more and more students engaged. Today, classes are typically full and there is sometimes a waiting list," Henry said.
He credits ONA's success to both programming quality and consistency, along with responsiveness to the community's needs.   
Henry's first brush with community outreach was in the healthcare field, where he collaborated with a variety of organizations focused on wellness initiatives. 
"I quickly learned the value of visibility and transparency when engaging fellow city residents," Henry explained. "It's essential to build trust and deliver on promises among people who are often underserved and, sometimes, under-delivered to."
Now, as Henry marshals a team of ambassadors across each of the city's seven districts, he'll be striving to link Detroiters to available digital resources while demonstrating to participants the power of advocating for themselves. 
"With oversight of the entire city, I will be working to create this wingspan of inclusive options across all of Detroit's districts," he says. "I see the community ambassador role as a key element of Connect 313's mission to bridge the digital divide."