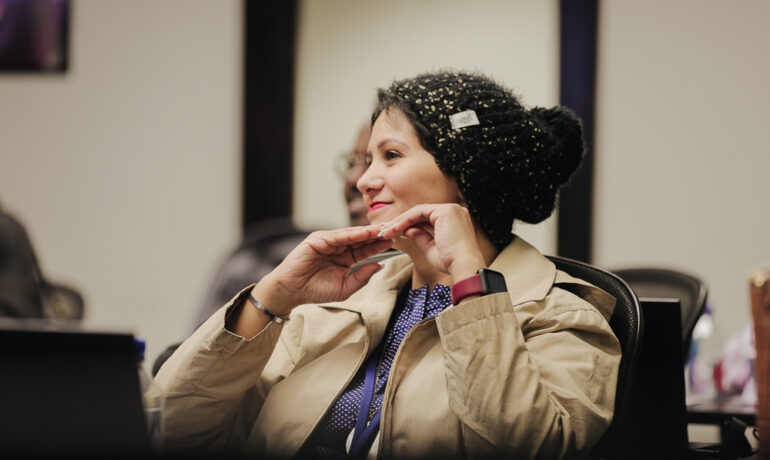 Meet Fadiah Yahya, your District Six Community Ambassador
Fadiah starts her day at the Bridging Communities organization, located at 6900 McGraw Avenue, across from Dingerman Park in Detroit. As the community ambassador to Detroit's District Six, she's dedicated to bringing everything internet to neighborhoods across the area. Read on to learn more about Fadiah.
C313: Tell us about District 6
Fadiah: District 6 in southwest Detroit has a unique range of diverse neighborhoods including Mexicantown, Hubbard Farms, Spring Village and others. It's a multicultural community that shares valuable cultural heritage and resources.
C313: How do you describe your work to friends and relatives?
Fadiah: I am the Connect 313 District 6 Community Ambassador, which means I am here to serve to the best of my ability. I help connect Detroiters to appropriate devices and digital resources for improved learning, employment and wellbeing and tell them about internet discount programs. Detroit deserves to be known as digitally equipped and its people digitally included. Whenever I can, I share the Connect 313 website address, talk about tech hubs, encourage suggestions and support participation in our monthly community conversations.
Connect 313: Why do you love being a community ambassador?
Fadiah: I love that I am able to make a difference in someone's life, whether it's a big change or a small one. It truly makes me happy! There's nothing more valuable and rewarding than being the person who can honestly answer questions without making someone feel uncomfortable or unworthy of my time. I am providing digital resources and empowerment and ensuring all residents have access to affordable, reliable digital technology.
Connect 313: What is your favorite thing about Detroit?
Fadiah: My favorite thing about Detroit is the people. I have travelled in the United States and overseas and couldn't find that peaceful feeling that I feel being in Detroit. Regardless of the news, I still find Detroit the best city and full of culture, history, and always vibrant.