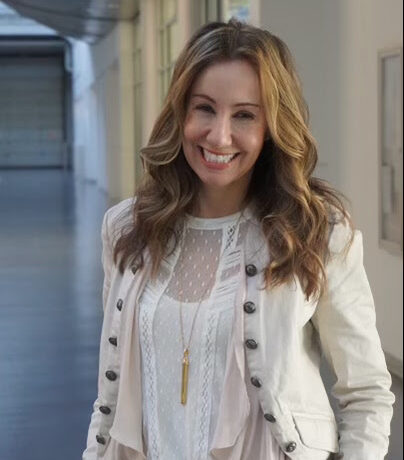 Meet Jennifer Jambor, An Amazing Human From human I-T
Succeeding in today's high-tech world starts with the very basics – a device, internet access, and the proper skills needed to use these digital tools. Jennifer Jambor with human I-T has seen firsthand the difference it can make to get affordable computers into the hands of Detroiters in need.
"I've been in front of families that have literally been in tears and told me, 'We've never had a device before,'" she says. "We are truly giving them the opportunity to achieve goals and change the trajectory of where their family will end up." 
Jennifer manages the Devices & Connectivity committee at Connect 313. It's a natural extension of her job as Senior Manager of Partnerships and Impact at human-I-T, an organization that provides devices, internet access, digital skills training and tech support in Detroit and other communities struggling to bridge the digital divide. They also empower businesses and organizations to donate devices, diverting technology waste from landfills.
"We believe access to technology is a right, not a privilege," Jambor explained. "It's what allows people to study remotely, apply for jobs, attend telehealth appointments, connect with distant family members, or explore new ideas and perspectives. In order to shrink the digital divide, we make it easy for our partners to do good together."
One of the original and most impactful projects has been the Connected Futures Program, a multi-organizational mission that supplied 51,000 students with tablets, hot spots, and tech support. "When we think about the impact that program made during a critical time for students learning in the City of Detroit, that feels really good," Jennifer says.
Since opening in Detroit in August 2020, human I-T has:
Created 28 jobs at its Focus:HOPE facility; 14 held by Detroit residents

Distributed 14,042 laptops and tablets (in addition to the 51,000 mentioned above)

Connected 2,756 households to high-speed, low-cost internet

Distributed more than 1,000 WIFI hotspots

Handled 17,750 tech support calls for DPSCD students

Processed more than 1 million pounds of e-waste
"All those initiatives are a perfect example of how when you bring the right people together into a room and you're all collaborating around the same mission and vision, a significant impact can be made, and we're able to see that," Jennifer says.
And there's more to come. Human-I-T plans to launch its first retail store in Detroit in 2023 that will give people the opportunity to learn more about the types of technology available, buy low-cost devices, take part in training, and ultimately feel supported every step of the way.
How to get a computer now
Residents of Detroit who would like access to low-cost computers, laptops, and tablets, or help getting reduced-rate broadband internet, or tech support or training can call 888-391-7249 or visit Human-I-T.org
How to donate an unneeded computer
Detroit businesses can take advantage of the partnership with human-I-T to recycle and donate technology that they no longer need. With a simple phone call, donors can access human-I-T's industry-leading IT asset disposition services. human-I-T will arrange an equipment pickup, securely wipe devices of sensitive data, refurbish, and update them, and donate them to local community organizations and individuals who lack access to technology. Damaged or broken items are also accepted for end-of-life product disposal. All donations are tax deductible.