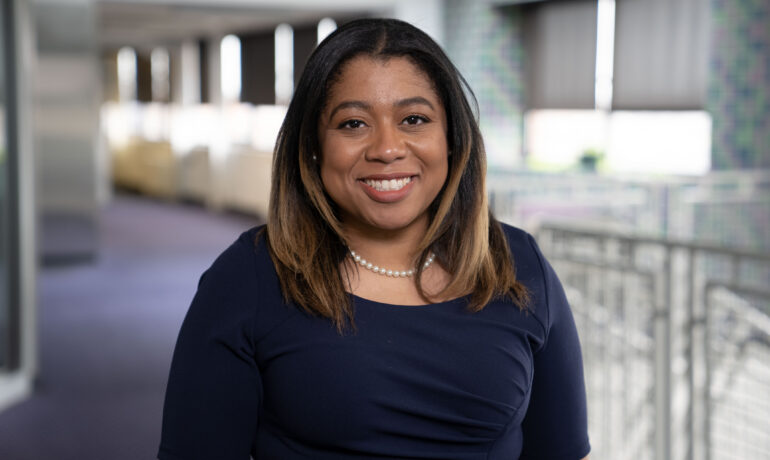 Autumn Evans is the Detroit Native Helping to Lead Connect 313
As Detroit's Deputy Director of Digital Inclusion and Connect 313's Operations Director, Autumn Evans is on the front lines of ongoing efforts to bridge the digital divide in Detroit. And she's making an impact and helping to change the course of history in the city where she was born and raised.
"Being a native Detroiter brings value to the work that we do," Autumn says. "To see Detroit go from being the least connected city in the country to being the lighthouse for digital inclusion work, I think that only happens when you are pushing to be innovative and think outside of the box to solve problems experienced by family and friends."
In 2020, Autumn was helping Focus:HOPE connect homebound and low-income seniors to devices and services and that's when she got a firsthand look at the impact of the digital divide. Not long after, she began working for the city and helping to lead the data-driven digital inclusion effort that is Connect 313.
In her role, she works tirelessly to ensure processes are developed and followed, strategic partnerships are formed, knowledge and information is shared, and that Connect 313 reaches its goals and continues to evolve.
"I'm very proud of our ability to execute at a high level and bring to life scalable solutions and operations that can help bridge the digital divide," Autumn says. "I believe the framework can be used to tackle other big issues such as food insecurity or the way the criminal justice system interacts with the community."
Connect 313's structure is a proven success. This summer, 17 new tech hubs were funded, bringing the total to 22 citywide. A number of sites received free devices thanks to a partnership with DELL Technologies. Autumn also works to ensure Detroiters have a voice in policy – assisting with the creation of a community organizing model that gives residents a greater say in the digital decisions being made.
"Having that resident-first lens as a city has made Connect 313 high value to the work that we're doing," Autumn says. "These big issues are not something a government entity can solve by itself; it takes all of us working together and setting common goals and turning our values into action to see change and make all of our efforts worthwhile."