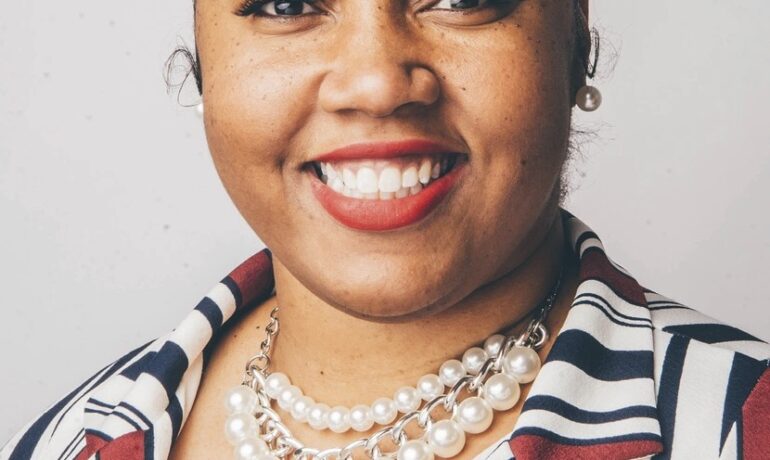 Meet Shadora Ford, your District Five Community Ambassador
High-energy Shadora is the founder and leader of Destined for Greatness, a nonprofit dedicated to empowering and motivating at-risk girls and young women in Detroit to do things that once seemed impossible. DFG provides training in hygiene, self-esteem, education, and job readiness along with groceries, household supplies, summer youth jobs and back-to-school essentials. In her role, Shadora understands the need for all Detroiters to have equal access to high-speed internet and the skills needed to navigate our digital world.
Read on to learn more about your District Five community ambassador.
C313: Tell us about your district and what makes it special?
Shadora: District 5 is a thriving community of folks who have been underserved and overlooked yet remain resilient enough to create lifelong histories shared from generation to generation. I grew up in 48214, and as a resident I appreciate the many programs and organizations, such as MACC Development, delivering essential services to those in need.
C313: How do you describe your work with Connect 313 to your family and friends?
Shadora: Connect 313 is providing FREE digital literacy classes, affordable internet and low-cost devices to Detroiters. With partners such as Rocket Mortgage, Infinity and Human IT we have community ambassadors in each of Detroit's seven districts. I'm proud to have helped in the creation of 17 Connect 313 Tech Hubs across Detroit, for residents to enjoy! #POWEREDBYDETROIT
C313: Why do you love being a community ambassador?
Shadora: My God given purpose, passion and pride comes from helping people! In my role as a community ambassador, I have the privilege of helping people sign up for the Affordable Connectivity Program, which means more people can experience low cost internet from the comfort of their own home.
C313: Tell us one surprising fact about yourself?
Shadora: I was born at 5555 Conner Street in Detroit, at what was then Mercy Hospital. Since 2010, I have mentored over 15,000 girls and helped nearly 50,000 families at the same 5555 Conner Street address, where I created the Destined for Greatness Mentoring & Community Resource Center!
C313: Favorite thing about Detroit?
Shadora: Detroit is home sweet home and a beautiful, diverse blend of innovative people who have coined catchy phrases for the world to repeat such as "What Up Doe?" and "Detroit vs. Everybody."