Connect 313 Fuels Fiber Optic Initiative in HOPE Village 
Losing internet access for 45 days in the middle of the COVID-19 pandemic is something Jeff Jones will never forget. The longtime HOPE Village resident, a husband and father of school-aged children, recounted that harrowing ordeal during a series of community meetings held at Focus:HOPE to discuss Detroit's digital equity plans. The City of Detroit hosted the meetings. 
"For one or two days, [losing internet access] is not a problem. You can do without your Netflix," he told the crowd. "But my kids were in school virtually. We lost our internet, and we lost our phone service. Instantly our neighborhood was shunted back to the 19th century. We couldn't connect to the internet. Our lives were interrupted." 
 Jones reached out to everyone he could. Day two became week two and his frustration and the community's hardship grew. Eventually, he connected with Joshua Edmonds, Detroit's director of digital inclusion, and service was restored. But that 45-day outage is a stark example of why an investment in the city's internet infrastructure is urgently needed. 
 Beginning this summer, a $10 million pilot project will deliver high-speed fiber optic internet access to every home and business in HOPE Village, located between the Lodge and Davison Freeways, Dexter to the west, and Hamilton to the east. Using federal American Rescue Plan Act funding, the effort will dramatically improve access and reliability. Property owners will be invited to 'opt in' and participate. 
 "We hope this new project will reconnect our neighborhood, [and] put us on a path to a bright and prosperous 21st century," Jones said. 
Connect 313 Leads the Charge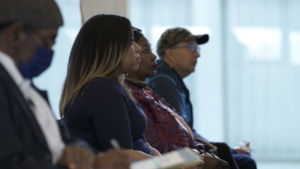 The idea for an automated open access network originated with a recommendation from Connect 313, a community partnership formed as part of a city-wide, data-driven inclusion strategy. The Rocket Community Fund, the Knight Foundation, and Connect Humanity provided funding for initial research, engineering, and network design. 
"We want every Detroiter to have affordable, reliable and abundant digital access that elevates local communities and accelerates opportunity," said Edmonds. "Using public funds to invest in an open public infrastructure is something that will spur private investment and drive private competition." 
How will Detroit's fiber optic infrastructure work? Multiple providers will have access to the same fiber lines, fostering competition and lowering costs for customers. The city is studying different ways to minimize costs, as well as a sliding scale for residents with lower incomes. 
"Open access operates like our airports and roads," Edmonds explained. "The city provides the infrastructure and internet service providers can use the fiber lines the city installs to deliver service to residents." 
It is estimated that a fiber optic system will last more than 50 years. As more internet speed is needed, cables will not need to be changed, making this an effective long-term solution. The goal is to eventually install fiber optic lines to homes and businesses across the entire city. 
  "It's about making sure that every single person is empowered with the devices, with the internet connectivity and the digital literacy training that they deserve, and that they have a right to," added Laura Granneman, Vice President, Rocket Community Fund." 
 "There absolutely is a digital divide and gap in this city," said Angela Calloway, Detroit City Councilwoman for District 2. "Your zip code should not matter whether or not you have access. I am so absolutely proud of the efforts that you are making." 
Information and updates will be posted on the city's Digital Inclusion & Equity page.