Connect 313 and City of Detroit Honor Digital Inclusion Superheroes
Detroit's Digital Inclusion Week (DDIW) recently revealed what many in the city already know: That Detroit is humming with digital superheroes working hard to ensure students, residents, small business owners and community organizations have the devices and digital skills they need and affordable, reliable internet access.
And, if you're wondering why work in the digital equity space is so important, take a look at how investigators from The Markup recently uncovered that Detroiters are paying big money for slow internet service. The report shows white residents are paying the same price for faster speeds.
During Day 2 of DDIW, Connect 313, the City of Detroit, and sponsor DELL honored four digital inclusion champions working tirelessly to connect Detroiters across the city. They are:
· Small Business Hero: Rachael Allen, Operations School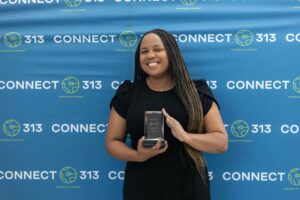 · Digital Inclusion Advocate(s): Detroit Community Technology Project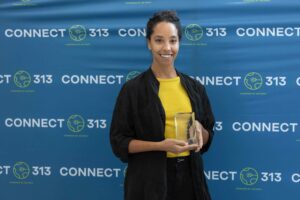 · Digital Inclusion Nonprofit: Detroit Residents First Fund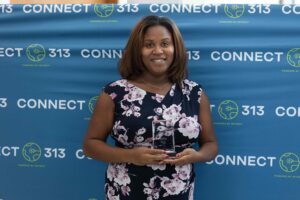 · Youth Advocate: CODE 313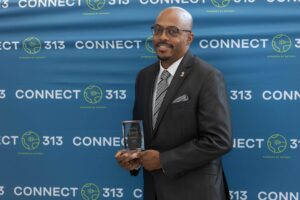 The ceremony took place on the campus of Wayne State University. The Small Business Hero of the Year award went to Racheal Allen, CEO of Operations School. Focused on small businesses and nonprofits, from start-up to grassroots to mature, Racheal has channeled her passion for operational excellence to help hundreds of organizations adopt tech systems and best practices.
"I started Operations School because leveraging technology and embracing automation is especially challenging for entrepreneurs of color due to the digital divide," Allen says. "That's where my team and I can really help."
Detroit Residents First Fund was recognized as the Digital Inclusion Nonprofit of the Year. The nonprofit was formed in 2016 with support from the Ford, Kellogg, and the Erb Family foundations. DRFF dispersed some $175,000 in tech support stipends to Detroit nonprofit leaders during the COVID-19 pandemic.
"Through unrestricted grant funds for tablets, laptops, subscriptions, and internet access, we helped several organizations continue to be productive and successful despite the world shutting down around us," said Daija Butler, director of systems planning at the Wayne Metropolitan Community Action Agency. "This award gives us the motivation to keep doing what we're doing." 
The Detroit Community Technology Project earned the Digital Inclusion Advocate of the Year award for its commitment to making community technology accessible to all Detroiters. Since 2014, the project has developed comprehensive programming and organized to help decentralize tech resources, making technology that's rooted in community needs and strengthening connections between neighbors and the planet.
"This has been a decades-long journey of community-led digital justice work," said Katie Hearn, director of the Detroit Community Technology Project. "[This award] is an acknowledgement of the many visionary Detroiters who have modeled what it means to have community at the center of solutions."  Knowing the challenges ahead, it's this legacy that will guide our shared commitment to connecting the disconnected and realizing digital equity." 
CODE 313, which provides equitable access to STEAM education, received the Youth Advocate of the Year award for its dedication to creating learning opportunities and career pathways for young people. Since 2019, CODE 313 has served approximately 50,000 Detroit students at more than 55 schools, providing coding camps, interactive classes and workshops. CODE 313's STEM Academy became a Connect 313 Neighborhood Tech Hub this past summer to expand its programming and its reach.
"Technology and learning are how we help children, families, and communities break the cycle of poverty and empower people of all ages to dream, aspire and achieve," said Bartell Welch, executive director of CODE 313. "Thank you to Connect 313 and the community for this recognition."
Detroit Digital Inclusion Week took place October 3-7, bringing together resources, experts and members of the community to advance the conversation around digital inclusion and engage the many partners working to create and sustain true equity in Detroit.