How Connect 313 Provided Chromebooks to Keep Kids Cooking
Food is more than fuel, it's a way to connect, converse, and create change. At the Detroit Food Academy, they're teaching students ages 10-24 culinary and leadership skills by bringing classes together in the kitchen after school.
"Our students would say it's an after-school cooking club, but we do a lot more than that," says Executive Director Julie Wainwright.
Before COVID, chefs traveled to about a dozen Detroit schools, bringing with them kitchen burners, blenders, bowls, whisks, and all the ingredients to craft students' favorite meals – like chicken alfredo, which includes making pasta from scratch.
But the pandemic caused a barrier Detroit Food Academy needed to break through. They bought a van and began delivering food and cooking supplies to student's homes. However, many kids didn't have the technology needed to connect to their afterschool leadership programs via Zoom. So, Julie reached out to Connect 313 for help.
"The digital inclusion piece is really important to me and Connect 313, and I think that's where we were mission aligned," Julie says.
Thanks to a grant from Connect 313, the Detroit Food Academy received 50 Chromebooks that went directly to Detroit kids.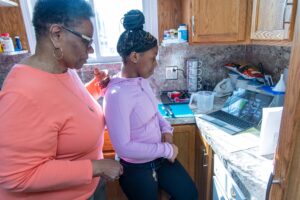 "It allowed our students to be significantly more engaged with our program," Julie says. "You can have Zoom up, you can have the recipe up, you can cook a lot easier than having a phone propped up on your kitchen counter."
The Chromebooks not only help students take part in the program, participants can also use the laptops for school, jobs, and internship applications. The team is heading back into classroom this schoolyear, but students will still use their laptops to learn.
"If they didn't have that device, we wouldn't be able to provide the services we do," Julie says.
For more information on the Detroit Food Academy, visit their website.